Nexonia's Time Off module can be configured with a public holiday profile, so the system knows which days to designate as a holiday. The public holiday profile is then linked to the user's Region or user profile, so that when they book time off, the system knows not to count public holidays in their vacation requests.
Administrators will need to create a new holiday list each year.
The public holiday profile can also be integrated into the Timesheets module to populate time entries with the public holiday and related task.
Note: the following instructions assume you've enabled the Time Off module.
To add the initial public holiday profile:
Navigate to: Settings > Company > Time Off > Public holiday profiles.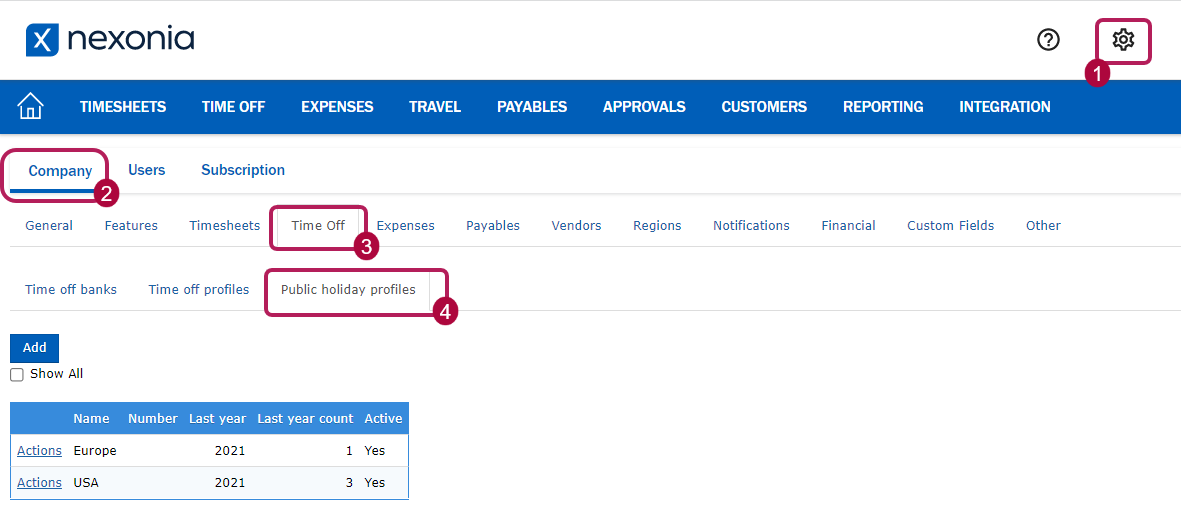 Click Add.
Enter in the following fields to create the Holiday profile:
Name (i.e. US Holidays, UK Holidays)
Customer (This will be the Customer value that will appear in the Timesheets entry for any Holiday)
Project (This will be the Customer value that will appear in the Timesheets entry for any Holiday)
Task Category (You'll only see the "Public Holiday" type Tasks here, choose the one that should appear in the Timesheets entry for any holiday)
Click Add to start defining the public holidays.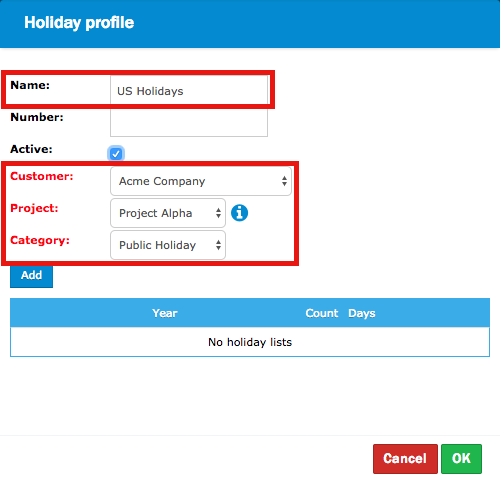 Fill in the Year to identify the calendar year the following holidays pertain to.
Click Add.
Fill in the Name of the public holiday (i.e. New Year's Day, Labor Day, Thanksgiving, etc.) as you'd like it to appear in the Timesheet.
In the Date field, select the date for this holiday from the calendar.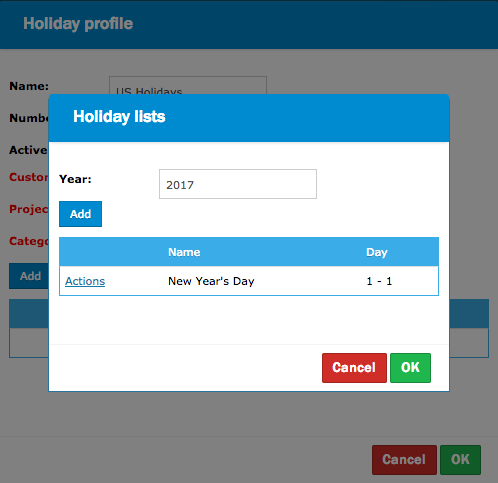 Repeat the 3 previous steps until all your public holidays have been added to the profile.
Associating the Time Off Profile with a Region or User
Please Note: Applying a public holiday profile to a region means that any user assigned to that region will be on that holiday schedule, whereas if you're assigning on a user level, only those users will be on the holiday schedule. Multiple public holiday profiles can be created and assigned to different regions/users.
By Region:
Next, you will need to assign the Public Holiday profile to the region. This is how the system understands which days should be applied to a group of users. Navigate to: Settings > Company > Regions. Click on the region, then Edit.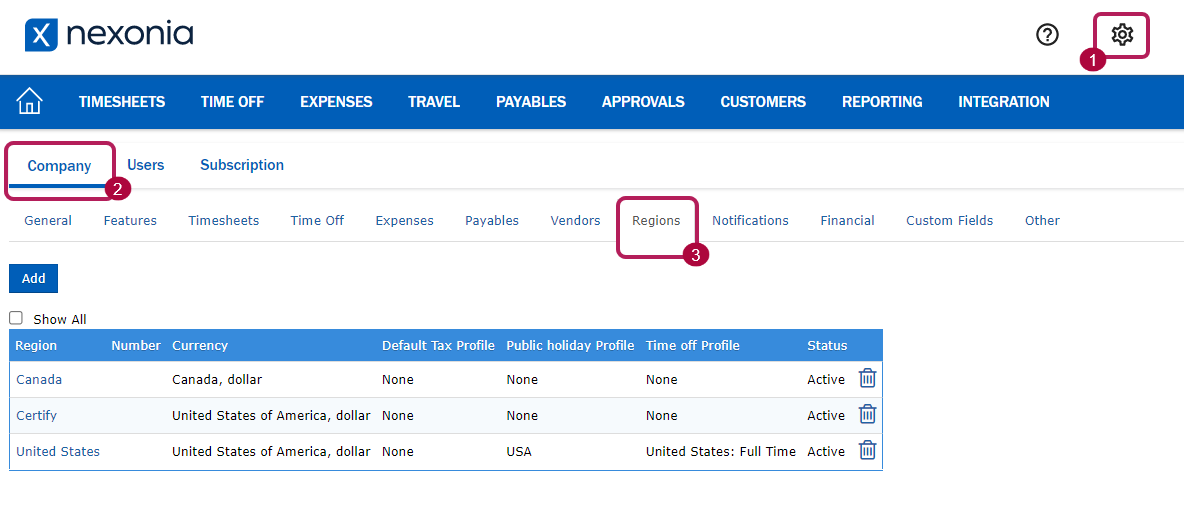 Scroll down and set the applicable Holiday Profile. Click Apply.
By User:
From the Company Settings page, navigate to Users>> Click into a user profile to edit.

Choose a public holiday profile in Holiday Profile > Apply to Save.

You've now successfully configured the public holidays. If you go to the Time Off calendar of any user tied to a public holiday profile either through their region or user profile, you should see the public holidays in grey blocks. In the example below, Aaron is booking 3 days as vacation, but the system only deducted 2 days of PTO as one day is a public holiday.