In Nexonia, administrators will have the rights to manage the time off bank balances for all users. This is the ability to make manual adjustments to the amount of time any specific user has been allotted.
Navigate to: Time Off > Manage Banks > select the bank from dropdown list > click the edit pencil for the user that requires an edit.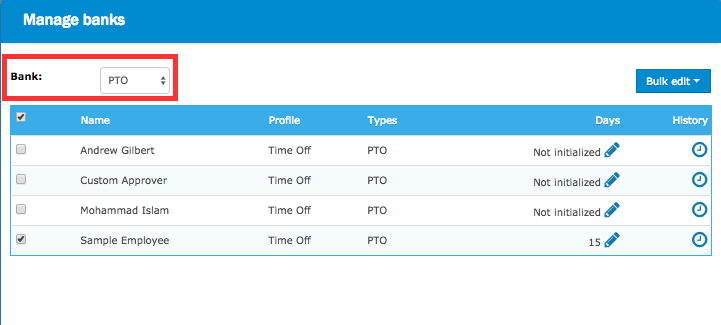 In the Update field, fill in the adjustment amount (can be a negative value). This will affect the New total field where you'll see what the new balance will be for the user. In the Memo field, enter in the reason for the change.
In the example below, our employee had 15 days allowed for PTO, but a manual adjustment of +2 days has been allotted.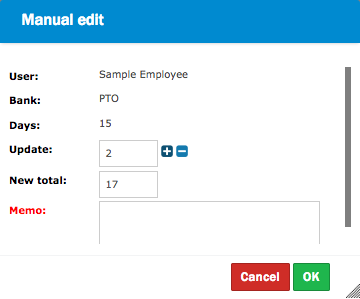 Bulk Edits
The above example showed us how to adjust an individual's bank, but there is a bulk option available too. After selecting the bank, use the checkboxes on the left to select which users you'd like to make the same change to.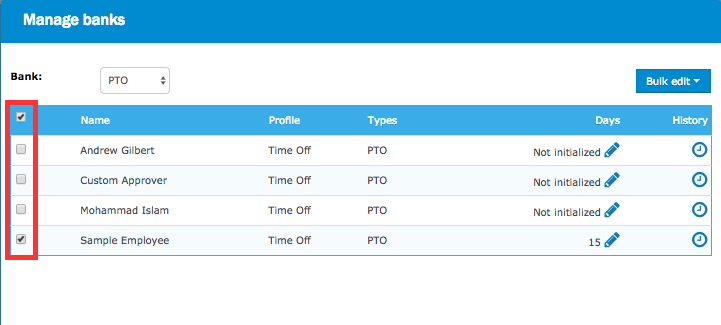 Next, click on Bulk edit > Add/Remove. Options exist to add/remove the same amount for all users or you could still make the individual adjustment on the user's line.