Email is a quick and convenient method for adding receipts and expenses into Nexonia. You can email receipts from your computer's email service, or from a mobile device with email capabilities. When emailing, use the same email address associated with your Nexonia account, or another email address that you have associated to your account as an authorized address.
This article shows you, a Nexonia user, how to email receipts to Nexonia.
Step 1: To begin, email receipts to receipts@nexonia.com. There are multiple ways to send receipts via email:
Attached image files will be processed as individual, separate receipt images.
Attached PDF Files will be processed as one receipt image per page.
An email without file attachments will be scanned and converted into one or more receipt images.

Please Note: If the email is longer than standard page height, it will be split into multiple images based on standard page height.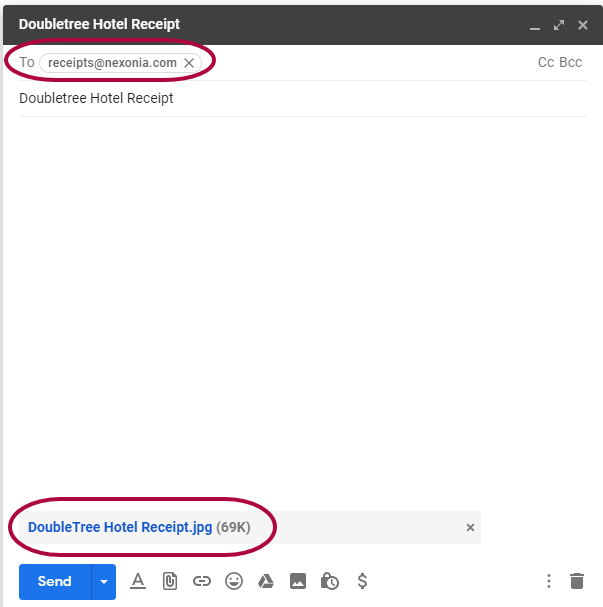 Step 2: Upon processing, receipts will be added to either the Unfiled Expense section or an Expense Report, depending on how the Subject Line was formatted as outlined below:
To direct the receipts to a specific expense report that already exists, change the subject line of the email so it only contains that expense report number.
To: receipts@nexonia.com
From: nexonia.user@business.biz
Subject: 1234
To direct your receipts to a brand new expense report, set the subject of the e-mail containing your receipt to be '+' without quotes followed by the title you want to give to the new report.
To: receipts@nexonia.com
From: nexonia.user@business.biz
Subject: + My New Expense Report
If you wish to send receipts to your Unfiled Expenses, you don't have to do anything special as it is the default behavior.
If Unfiled Expenses is unavailable, the receipt will create a new report with the title "Emailed receipts from MM/DD/YYYY". MM/DD/YYYY is the date when the receipt was received.
You'll receive a confirmation email that indicates if the emailed receipts were processed successfully or not.
Note that when emails contain multiple receipts or a multi-page PDF, receipts will be merged into one single image under Unfiled Expenses.