In Nexonia, users can be filtered to restrict which projects are accessible when creating expenses. This can work in a multitude of scenarios, however a common example might be when all users can charge various internal expenses, but only a select few can charge expenses to an annual company summit.
Note: Based on your individual interface settings, the term 'Project' may have been changed to reflect your expense management needs.
Administrators will turn on this feature by navigating to: Settings > Company > Features > Edit > Locate and enable 'Internal Contacts: Sub-selected at Project Level'. Another option to 'Filter by Module' will appear. See Appendix at end of article for more information.
Once the feature has been turned on, the system default is to restrict access for users to projects for the purposes of creating expenses. Administrators will need to apply the filtering and grant access. To do this, navigate to: Customers > Projects > Select a project > Internal Team > Edit > Select/Deselect Users > Apply.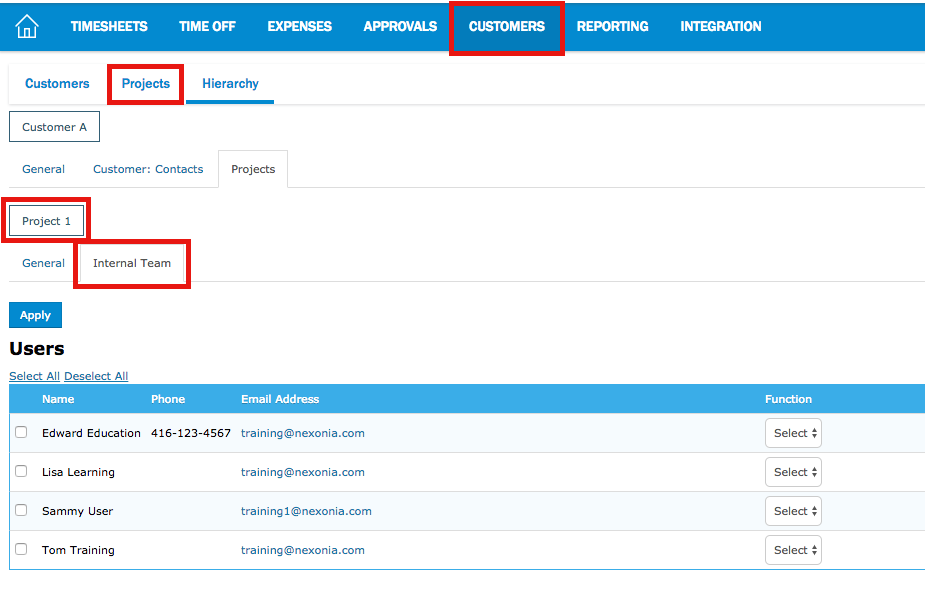 Once this is complete, when users create their expenses, only the projects made available for them will appear in the Project field dropdown.
Note: If a user has access to no projects (they must have access to at least 1), they will not be able to create expenses and would see the following error:

Appendix
If your organization is using multiple Nexonia modules (Expenses, Time, PO & AP), in addition to filtering users by project, you can also add a layer of filtering to grant access for users to only be able to select the specific project within certain modules.
An example of this could be if a user should be able to add time entries against a certain project, but will never incur expenses on the same project.
Turn on the feature and follow the steps above leading you up to and including where you Select/Deselect users within the Internal Team of a project. You'll now notice that the different modules appear. Use the checkboxes to grant users access to select this project within the respective module.