What to expect during your Nexonia Implementation
When the Business Requirements Document has been submitted you will have an Implementation Specialist assigned to your account within 10-15 business days.
The average implementation length is 6-8 weeks from the date of the kickoff call.
Web meetings with your Implementation Specialist will be scheduled upon the completion of milestones.
Between meetings, emails will be responded to within 3 business days.
After each web meeting we will email you with open items to complete.

If more than two weeks are required to complete your open items your implementation will be paused until they are completed. Your CSM will liaise with you during this time.
What we need from you to do a great job:
A designated contact from your team who will coordinate and manage the implementation project for your team, and act as the solitary decision-making authority.
Nexonia will request data from you. Delivery of this data in a timely fashion will move the implementation along faster.
Please ensure the data you send us is the complete, final version. Nexonia will configure your account based on what is sent.

Corrections or change requests made after configuration will result in delays and/or additional fees.

Achieve consensus regarding your team's processes, objectives and requirements in advance of scheduled web meetings.
Do not begin regular usage of Nexonia until the Implementation is complete.
Nexonia Implementation Milestones
The following milestones and their associated tasks typically occur over a period of 6-8 weeks, with email communication as needed in between.
A web meeting with your Implementation Specialist will be scheduled when a milestone has been completed: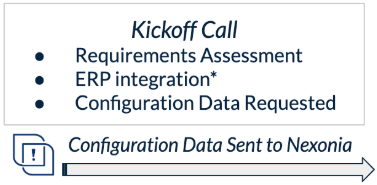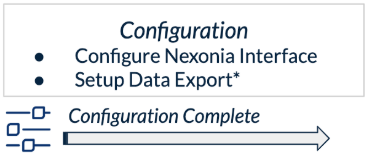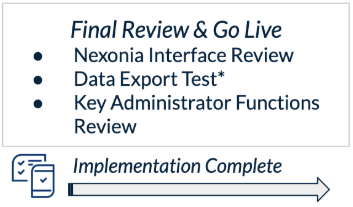 *if applicable