Invoice OCR Scanning on Payables
Nexonia has added the second iteration of OCR Scanning on Invoices on our Payables Module.
There are two ways to create a bill on payables and OCR is supported for both. First, an invoice can be mailed using the unique vendor email address. A bill will automatically be created, the invoice sent to OCR for processing, and the returned following fields populated:
Vendor Name
Invoice Number
Invoice Date
Secondly, if a bill is manually created in Nexonia, you can add the invoice as an attachment. When added, the invoice is automatically sent to OCR for processing. We have now added real-time page updates to show the invoice in the OCR process: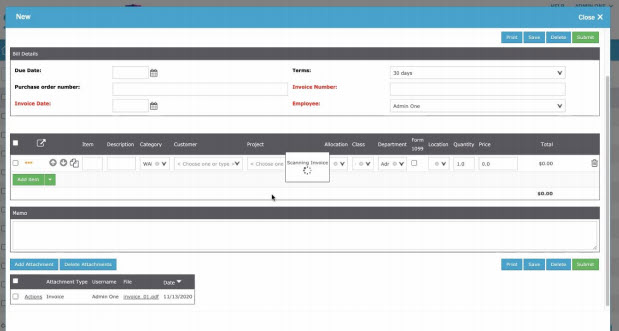 If you close or refresh the page, the real-time notification will be removed but the results will still
populate.
As this is only our second iteration, we also look forward to expanding the supported fields to include Terms, Due Date, and PO Number.