Travel Planners have the permission to select other travelers in the company and manage travel for them. In order to act as a travel planner on behalf of a traveler, you must be added to the traveler's profile as a travel planner.
As a Travel Planner, you have the following abilities
Selecting another traveler – You can search for and select any traveler that has added as a Travel Planner in their profile.
Step 1: On the right side of the menu bar, select the dropdown menu to access the option for Select Another User.

Step 2: Click Select Another User. Any previously selected users will be listed and you will also have the option of "More…".

Select More… to search the company for the user you need to book for.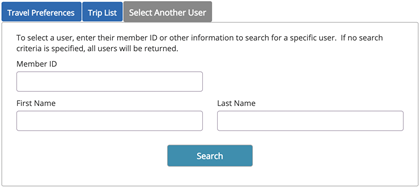 Note: Results are limited to profiles that list you as a Travel Planner.
When shopping for another traveler, the traveler membership programs will be shown at the top of the results.

Travel Planners can have receipts for traveler bookings routed to their wallets. Contact your administrator for access.
Travel Planners will automatically receive itinerary emails for travelers they book when the traveler's profile has the option Always email my itinerary activity checked in their profile. This is located in the Name tab on the Personal information page.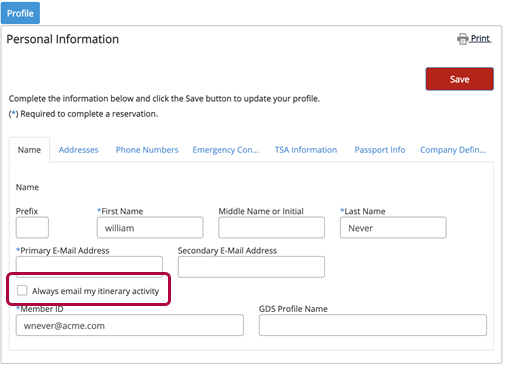 Travel Planner credit cards
Travel Planners can make credit cards in their profiles available for selection when booking for a selected traveler.
Step 1: Select the View icon for a credit card in your profile.

Step 2: Check the Allow me to select this card when booking for a selected traveler radio button.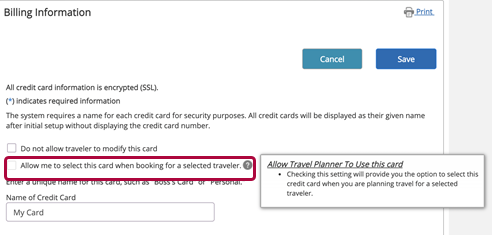 Select the search icon to select a traveler using you as their Travel Planner. Once you select a traveler, the fields for the passenger will populate with the available information from the traveler's profile.

Note: You will be able to edit the information that is populated but it will not update the traveler's profile.
As mentioned above, you must be listed as a Travel Planner in a traveler's profile for access. See the online guide for Adding a Travel Planner for information.